YMA Awards 2017
YMA Awards at IHFA All Ireland Awards 2017
Presidents Medal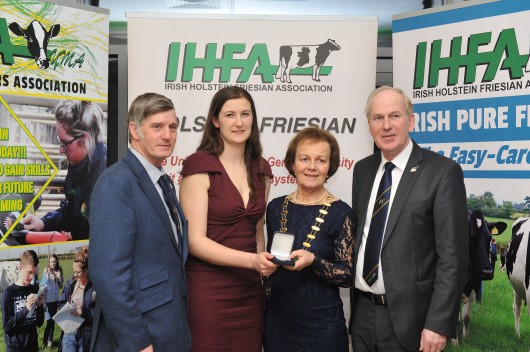 The winner of the Presidents Medal 2017 is Avril Helen. This award is at the discretion of IHFA President Kathleen Watson following interview with the candidates. Avril was nominated by the Cork Club of which she is a distinguished member with tremendous service over many years of involvement. Avril has also served National YMA with distinction, serving on the National Committee and most recently completed a very busy and progressive term as National YMA Chair.
Hall Of Fame
The winner of the Hall of Fame award 2017 is John Curtin, Rosstemple herd, Co. Limerick. John was nominated by his local Limerick Clare Club and the following is a quote from that nomination;
"John makes calves available every year for YMA age members who have no calves to show themselves. They are impeccably turned out ready to go. John helps the club quietly, looking for no reward. He is extremely good with the children and with understanding what needs to be done. The club feel John is a worthy of being the next Hall of Fame recipient".
Club of the Year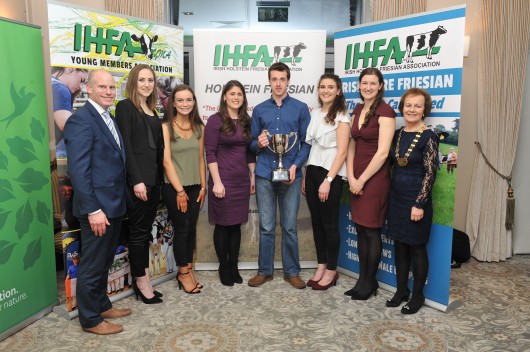 The winner of the YMA Club of the year is the Cork club. Based on participation and performance in the various YMA events and activities throughout the year this is an award for teamwork, co-operation and no shortage of skills and talents.
Photographic Competition
The winner of the Photographic Competition is Gerard Kirby with his winning entry. Well done to Gerard who has taken part in this competition previously. On this occassion his photo captures the moment of a new arrival into the herd. From Ballinascarthy in west Cork, Gerard is very involved on the family Mounteen herd, in addition to working locally.