Welcome to Radney Herd – IHFA Open Day 2019 Host Farm
The O'Keeffe family's Radney Holstein Friesian herd will host the IHFA National Holstein Friesian Open Day on Thursday June 27th. This impressive herd, established in 1987, is characterised by a strong focus on soil management, fertility, top performing grazing strategies and influential cow families which help drive impressive annual output and performance.
Located near the village of Freemount, which is nestled close to the North Cork market towns of Charleville and Kanturk, the Radney herd is copper fastening a formidable reputation for breeding prowess. Recognition in the market place for Radney breeding stock is such that numerous top prices have been achieved at prominent sales again and again. The quality of the herd, in terms of output, performance and conformation standards, is back-boned by influential cow families.
Numerous prizes and awards have been attained. Last year the herd was presented with the distinguished RDS Champion of Champions Award in recognition to the national success of the Odetta family. The herd won first place Spring Calving Section in the Cork Club Herds Competition 2017 and 2018. Performance and recognition for the herd was embellished further in achieving second place in the IHFA National Herds Competition Spring Calving Section and also was Joint-Highest EBI Herd 2018.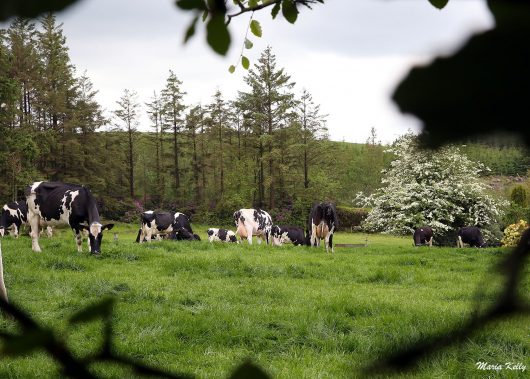 The Beginning and Evolution of the Radney Herd
"My father had built up a good herd which, unfortunately, was undone following depopulation. In hindsight it proved to be a major turning point as we decided to establish a pedigree registered herd upon re-stocking.
"I was fortunate to purchase select cow families from the Ardrahan Herd of the Burns family, Kanturk. In particular the Odetta, Gerard, Ostrich and Deborah families have been a tremendous success. These families have delivered generation after generation for milk solids, protein % and functionality. This has opened up a market outlet for the sale of breeding bulls. Five Radney bred bulls have been purchased for AI to date. At the IHFA Premier Bull Sale 2017 three Radney bulls sold for a combined total of €8,250. Radney Figo ET commanded the top price at the IHFA Premier Bull Show & Sale earlier this year.
"It's all about managing the best performance from the herd of cows with regard to the value of milk sales, sale of surplus stock, herd seasonal pattern and maximising the utilisation of grazed grass."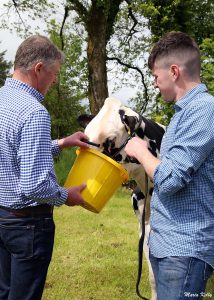 Fact File
• Established in 1987.
• Managed by Henry and Marie O'Keeffe and their youngest son, Liam.
• Milking herd of 90 pedigree registered cows in 2018 with close to 95% spring calving.
• Milk recorded average – 8,874kgs milk, 4.12% fat, 3.74% protein, 697kgs milk solids. SCC 65.
• 73% of the herd is classified to VG/EX Conformation standard with IHFA, the top two categories of conformation scoring, capturing functionality.
• Cow families include Odetta, Ostrich, Gerrard, Deborah, Triempress and Bella.
• "We breed for functional cows with good production and longevity, cows with strong udders and feet & legs, that develop into excellent cows and provide a calf every year. Good fertility is very important" comments Henry.
• Mature cows of fourth lactation or older make up 43% of the herd, an example of good longevity, fertility and durability.
• Seven Radney cows have been awarded Gold or Diamond award for achieving 3,000kgs lifetime protein production.
• Numerous Radney bred bulls have been purchased for AI in recent years. In total about 25 breeding bulls are sold every year, commanding top prices at the prominent auctions.
• Farming a total of 200 acres with a milking block of 105 acres.
• Strategic use of zero-grazing helps boost efficient performance of grass in the diet and utilisation of available acres.
• With Liam now farming full time at home, having graduated from C.I.T. with a Level 7 qualification in Agricultural Science, there are plans to build on the many herd achievements and performance benchmarks.
Herd breeding policy is to select for good functional conformation, total milk solids, protein % and also milk volume. Fertility is a very important consideration. Classification is a helpful tool to identify functionality and using the information to its best effect. Cows that are long lasting means there is surplus breeding stock available for sale.
Radney Seal Odetta EX90 3E was the foundation dam in the herd. She produced 16 progeny and was the first cow to achieve 4% protein. Her daughter Radney Merci Odetta 4 EX93 8E has a lifetime production of 3,874kgs fat, 3,504kgs protein and 3.56% protein. She calved regularly every year, completing 15 lactations in total.
Radney QUR Odetta EX93 8E is a grand-daughter of the Rock Seal cow is affectionately known as The Queen. More than most she has propelled the family into the limelight. She is currently in her 10th lactation and has bred 11 daughters so far. Her success and fruitful influence was enhanced via success with flushing and embryo transfer.
Both her son Radney Levi 5 (YRY) and grandson Radney Steve ET (FR4098) have been selected to enter AI. Radney MWL Odetta 3 VG89 is the dam of Radney Steve and she is full sister to Radney Levi 5. In her second lactation she recorded 9,775kgs milk, 4.20% fat, 3.66% protein and 769kgs milk solids (305 d).
Radney MIW Odetta 2 EX92 6E in her 6th lactation recorded 10,328kgs milk, 784kgs milk solids and 3.63% protein (303 days). Of note, she calved in as a heifer on January 26 and calved again in the month of January every successive year with her 9th calving this year occurring in February.
Radney DUT Odetta EX91 6E with a 3rd lactation yield of 10,490kgs milk, 885kgs solids, 3.80% protein.
Radney DUT Odetta 6 VG87 with a 4th lactation yield of 10,380kgs milk, 619 kgs solids, 4.19% protein.
Radney RXO Odetta EX90 with a 2nd lactation yield of 9,549kgs milk, 722kgs solids, 3.72% protein.
The Deborah family also excels for production, conformation and longevity with 16 natural-born members of the family currently in the herd. Radney OOK Deborah EX90 3E in her 4th lactation recorded 8,628kgs milk, 4.36% fat, 4.14% protein, 734kgs milk solids. Radney BYJ Deborah EX90 2E in her third lactation gave 8,755kg at 4.59% fat and 4.15% protein. She has two full sisters from Radney Mill in the herd, while her daughter Radney YRY Deborah EX90 achieved 9,055kg, 4.37% fat, 4.03% protein in her second lactation and Radney YRY Deborah 1425 recorded 777kg solids, 4.72% fat and 3.80% protein in her first lactation.
The Gerrard family is also firmly established, exemplified by Radney QUR Gerrard 2 EX92 6E now in her 7th lactation. In her 4th lactation she produced 9,515kgs milk, 4.47% fat, 3.95% protein 801kgs milk solids.
Radney BWV Triempress EX90 3E is a recent recipient of Diamond Award status. Her total lifetime production to date is 86,302kgs milk, 3,358kgs fat, 3,252kgs protein, 3.89% fat, 3.77% protein. Fertility performance is excellent, having calved ten times since 2010, calving twice in 2017. Calved since the start of February she is now in her 10th lactation. She has three daughters in the herd who are all performing very well, with high consistant yields and volumes of milk solids;
Radney YRY Triempress VG87 in 2 lactations has averaged 7,529kgs milk, 3.76% protein
Radney NFT Triempress VG87 in her 3rd lactation recorded 7,770kgs milk, 4.22% fat, 4.23% protein, 656kgs milk solids.
Radney LLK Triempress recorded 7,971kgs milk, 4.42% fat, 3.73% protein, 649kgs milk solids in her 2nd lactation.
Celebration Sale of Young StockA celebration sale will be held in association with the day. On offer are Approximately 54 animals on offer, including 8 in milk, 20 in calf heifers, 20 calves & 6 bulls. For more information, click through to

IHFA National Holstein Friesian Open Day 2019 hosted by the Radney Herd
Thursday June 27th
This is a unique occasion to view the tremendous breeding and efficient performance of the Radney Herd.
Key cow families will be represented in the teams of cows for the Inter-Club, Macra and Open Stock Judging.
A choice offering from the herd's top breeding lines will be offered for sale in a unique Radney celebratory sale of young stock.
Eircode – P56 FC61. All welcome!
Programme of Events
10.00am Open Day & Trade Stands – Open
1.30pm Official Opening
3.30pm Presentations: