RUAS – Winter Fair 2017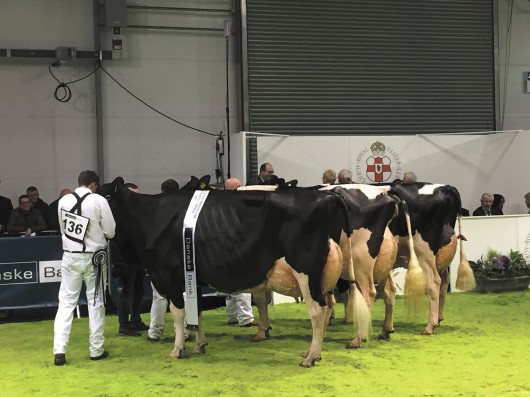 Breeders from the Republic turned out quality stock yet again and enjoyed success in winning many classes at the 32nd RUAS Winter Fair. Breeders from all corners of Ireland made the journey to the Lisburn venue as the festive December event brought down the curtain on the 2017 showing year.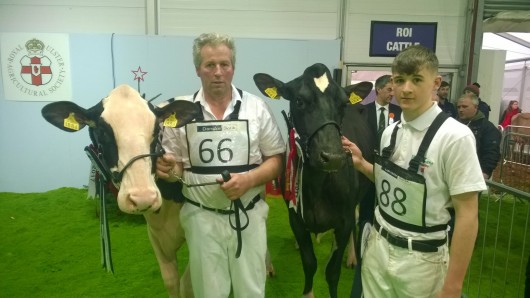 The Fame family developed by the Hurley family, Clonpaddin continued the form of success enjoyed at the recent National Dairy Show, Millstreet. Cyril and John Dowling's Clonpaddin G Fame won Honourable Mention and 1st Cow In-Milk, having had four calves and also best udder. Having won Supreme Champion National Dairy Show in October, it has been a tremendous finale to the year for the Baldonnel herd, with John on the halter and Cyril in attendance. Calved with her 4th since August, she is projected to produce over 12,000kgs milk and 935kgs milk solids this lactation. Classifed EX92 on conformation, she attained EX93 for rump and also mammary.
She was purchased by Mervyn Eager, Evergrange, as a young calf at the Clonpaddin sale held in conjunction with hosting the IHFA Open Day 2011. Having calved in with an Atwood daughter in the Evergrange herd Mervyn subsequently sold her to the Baldonnel herd with Mervyn retaining a showing interest.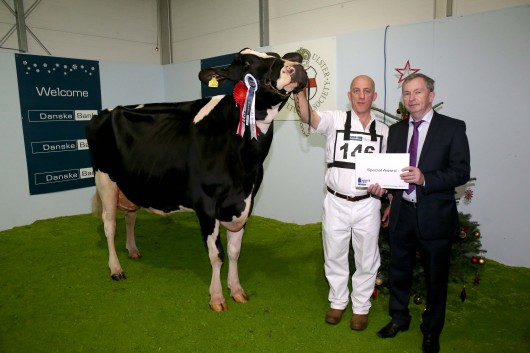 The Senior Championship was a tremendous line up of quality breeding. Judge Hank Van Exel (USA) whittled the contenders down to four, which ramped up the air of expectation. Contenders in the final four selection included Clonpaddin G Fame and Lumville Abbey bred by Richard Whelan and exhibited by new owners Martin & Cyril Millar, Co. Antrim. The judge was fulsome in his praise for Dowling's cow, remarking that he "Absolutely loves her mammary system". As the youngest cow competing in the final Championship line-up it was an accomplished achievement for Lumville Abbey. The judge singled out "Her youthfulness and promise, no doubt there are more titles ahead of her in the future". Abbey was sold at the recent Lumville dispersal sale won the Junior Cow In-Milk class and was awarded best udder.
Complimenting his final four selection Hank Van Exel said that each cow was a beautiful dairy cow with the quality to win Champion at any national Holstein show. Champion was awarded to Hilltara Lauthority Echo 2, the current Baileys Champion Cow, with Priestland 4951 Shot Bedazzle as Reserve Champion and Clonpaddin G Fame taking Honourable Mention.
The Hurley family dominated the Heifer classes, taking Interbreed Heifer Champion and also Reserve. Champion, Clonpaddin Polly 2 ET, was 1st in the Senior Heifer class and was also judged best udder. Classified VG87 she is a daughter of Leagh Damion Precious EX91 2E and is sired by Gold Chip EX. Reserve Champion Clonpaddin MCC Chrisi was 1st Junior Heifer in-milk and also won best udder. Having calved in early October she has classified VG86 on conformation and is backed by six consecutive generations of excellent (EX) Dams. Other success for the Clonpaddin herd included – Clonpaddin Windbrook Fame 2 ET 3rd in the Cow In-Milk having had two calvings and best udder, and Clonpaddin Snowy Fame winning Reserve Champion of the Junior Championship and 2nd in her Heifer class.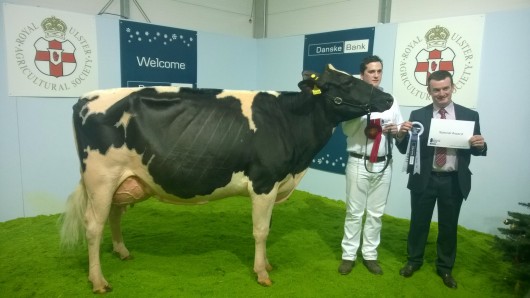 Breffni Oriel club members had a strong showing once again with the Keenan, Greenan, Williamson and Corley families prominant. Greenlea Shottle Pledge was 1st Senior Cow In-Milk. Cornboro Beemer Dolly exhibited by Brian Corley was Honourable Mention in the Junior Championship and 1st in the June 2016 class. Rachel Corley was 1st in her Intermediate Handling class and Rebekah Williamson placed 2nd in the same class, a great achievement by YMA members.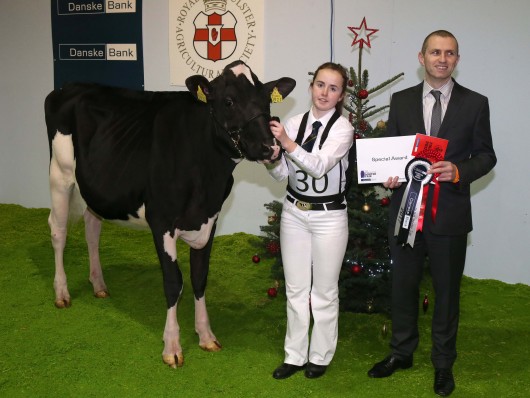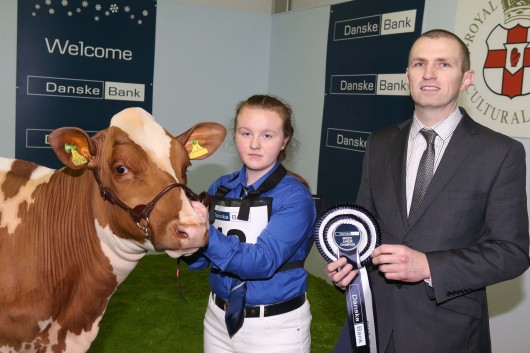 19     HEIFER, born after 1st June 2016  
Prize
Cat. Name
Details
1st
Corley, Brian 
CORNBORO BEEMER DOLLY 
4th
Greenan, Padraic 
GREENLEA MANDELLA ORAN 
5th
Greenan, Padraic 
GREENLEA ARMANI PLEDGE ET 
Exhibitor Bred
Corley, Brian 
CORNBORO BEEMER DOLLY 
20     HEIFER, born on or after 1st June 2015 and on or before 31st May 2016  
Prize
Cat. Name
Details
2nd
Clonpaddin Holsteins 
CLONPADDIN SNOWY FAME 
5th
Greenan, Padraic 
GREENLEA MONTEREY ROXY 
22     HEIFER, in milk, must have calved by three years of age  
Prize
Cat. Name
Details
1st
Clonpaddin Holsteins 
CLONPADDIN MCC CHRISI 
Exhibitor Bred
Clonpaddin Holsteins 
CLONPADDIN MCC CHRISI 
Best Udder in Class
Clonpaddin Holsteins 
CLONPADDIN MCC CHRISI 
24     HEIFER, in milk, must have calved by three years of age  
Prize
Cat. Name
Details
1st
Clonpaddin Holsteins 
CLONPADDIN POLLY ET 2 ET 
Exhibitor Bred
Clonpaddin Holsteins 
CLONPADDIN POLLY ET 2 ET 
Best Udder in Class
Clonpaddin Holsteins 
CLONPADDIN POLLY ET 2 ET 
26     COW, in milk, having had two calvings at date of Show  
Prize
Cat. Name
Details
1st
Greenan, Padraic 
GREENLEA SHOTTLE PLEDGE 
2nd
O'Neill, Denis
DALEVALLEY GWY EMBRACE 2 VG88 
3rd
Clonpaddin Holsteins 
CLONPADDIN WINDBROOK FAME 2 ET VG88 
Exhibitor Bred
Greenan, Padraic 
GREENLEA SHOTTLE PLEDGE 
Best Udder in Class
Clonpaddin Holsteins 
CLONPADDIN WINDBROOK FAME 2 ET VG88 
28     COW, in milk, having had four or more calvings at date of Show 
Prize
Cat. Name
Details
1st
Baldonnel Holsteins 
CLONPADDIN G FAME 
Best Udder in Class
Baldonnel Holsteins 
CLONPADDIN G FAME 
S21     Heifer Championship [Heifer in milk] 
Prize
Cat. Name
Details
Champion
Clonpaddin Holsteins 
CLONPADDIN POLLY ET 2 ET 
Reserve Champion
Clonpaddin Holsteins 
CLONPADDIN MCC CHRISI 
S22     Junior Championship [Maiden or in calf heifer]  
Prize
Cat. Name
Details
Reserve Champion
Clonpaddin Holsteins 
CLONPADDIN SNOWY FAME 
S26     Inter breed Heifer Championship
Prize
Cat. Name
Details
Champion
Clonpaddin Holsteins 
CLONPADDIN POLLY ET 2 ET 
Reserve Champion
Clonpaddin Holsteins 
CLONPADDIN MCC CHRISI 
1     Novice and Junior Showmanship (handlers under 13 years of age on 1st January 2017)  
Prize
Cat. Name
1st
Keenan, Holly 
3rd
Williamson, Sarah 
2     Intermediate Showmanship (handlers aged between 13-15 years on 1st January 2017) 
Prize
Cat. Name
1st
Corley, Rachel 
2nd
Williamson, Rebekah