Royal Ulster Winter Fair 2016
Supreme Champion & Reserve Titles for Southern Breeders again
Desmond Dundee Embrace wins Champion Holstein and Supreme Interbreed Champion at RUAS Winter Fair. This is her second time claiming the title, having previously been crowned Champion in 2014 for joint owners Roy Cromie and Philip Jones. Reserve Holstein Champion and Interbreed went to Liam and Sandra Murphy's Evergreen Duplex Ebony who was Supreme Champion 2015. There was a large turnout of southern breeders who had a very successful show in winning many of the classes throughout the day.
The Winter Fair is firmly established as the flagship seasonal event for the Northern Ireland dairy sector and the move to the new venue, located further south of Belfast, provides for ease of access with the result that a large contingent of visitors from the south were among the throng in attendance.
The Champion and Reserve Champion cows are both currently in their 5th lactation which was referenced by the judge who stated how this is testament to the breed and breeders, and is further affirmation for the longevity within the Black & White population.
Champion, Desmond Dundee Embrace was 1st in the Production class and was also Best Udder. The judge commented "She has great style and elegance and given the fact that she is on her 5th lactation, her quality is all the more admirable". She is classified EX94 3E and completes eight generations of VG/EX maternal breeding. Her daughter by Goldwyn Dalevalley GWY Embrace 2 was also exhibited at the show and won Reserve Champion Heifer and placed 1st Senior heifer.
For Liam and Sandra Murphy it was a very successful return to the Winter Fair, with Evergreen Duplex Ebony placed 1st in her Senior cow class and also Best Udder. In winning the class the judge remarked "She is a beautiful dairy cow. Tremendous spring of rib, very pleasing rump structure which gives her the advantage." She was also Exhibitor Bred Champion.
Both senior cows are noted production cows in addition to excelling on conformation. Combined, they have a total lifetime milk solids production of 7,795kgs fat and protein – almost 8 tonnes of milk solids. Desmond Dundee Embrace EX94 3E has averaged 867kgs of milk solids produced per lactation, this equates to 1.9 times the published industry benchmark target of 449kgs for mature cows (3 lactations +)! In her previous lactation Evergreen Duplex Ebony EX 95 2E produced 852kgs of milk solids in 292 days then calved-in again 18 days short of a 365 day calving interval.
A strong Championship line-up also included Monamore PNH Darlene for Tom & James Kelly, Patrick Colton's Beechford Shutter Ella 2, Laurelmore Ares Pia 2 exhibited by the Booth family, N.I. Hallow Attic Christina for Philip Jones, Future Dreams Absolute Joy for Paul & Marguerite Flanagan and Clonpaddin WB Fame for the Hurley family.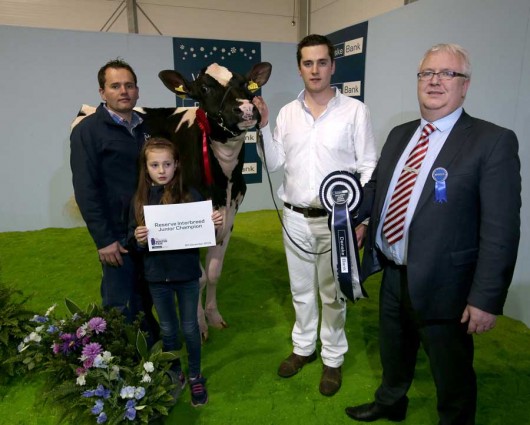 Padraig Greenan, Greenlea herd, won the Novice Exhibitor award and his Greenlea Stonewall Oceane was Reserve Junior Champion.
Paul Trapp from Wisconsin, USA, was tasked with judging duties, taking charge of Handling classes and the various breed classes throughout the day. Paul is a noted judge in the US having judged in 20 different states and also internationally, including Argentina, Australia, Brazil, Canada, Japan, Mexico, and the UK. In 2013 he travelled to Ireland to judge Emerald Expo. He has twenty years experience as a sire analyst and currently works with Semex as part of its sire acquisition team. His reason giving on all classes was delivered succinctly and enhanced the overall spectacle. Before tapping out his Champion, Reserve and Honourable Mention he commented "Judging the Ulster Winter Fair has been an honour and a privilege. This truly is a marquee venue having tremendous facilities. It has stirred an infectious buzz and atmosphere all day long. It is so obvious to me that you all have a tremendous passion for your cows and for great cattle".
The Young Members (YMA) were very much to the fore in the Handling classes;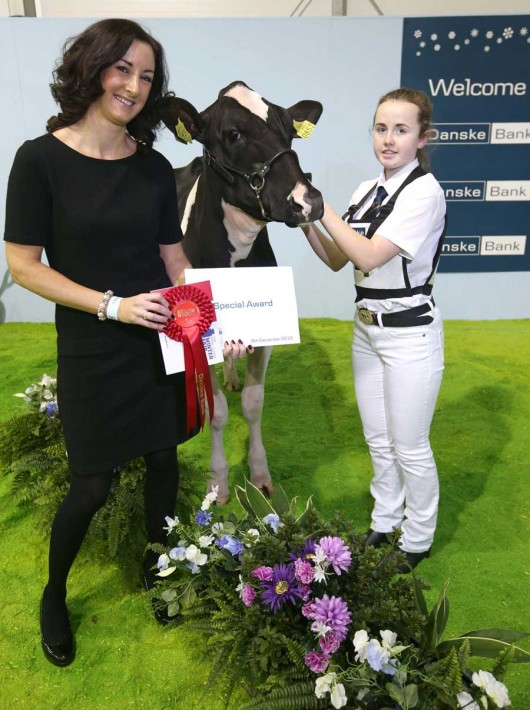 Holly Keenan 1st Novice & Junior Showmanship,
Rachel Corley 1st Intermediate Showmanship,
Stacey O' Sullivan 1st Mature Showmanship.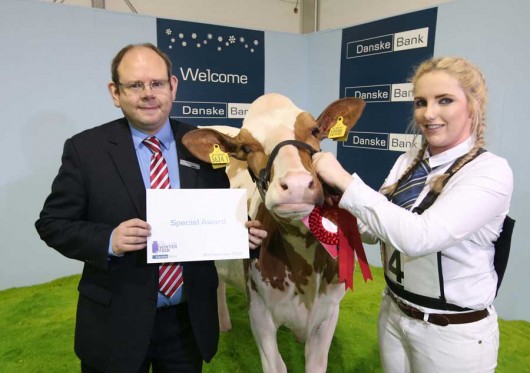 David Perry, President-elect of Holstein UK, and John Martin, Secretary of the Northern Ireland club, were among the large attendance. There was a large commercial presence including 200 trade stands representing a cross-section of agri-business.
Placing
Entrant
Animal
1 Novice and Junior Showmanship (handlers under 13 years of age on 1st January 2016)
1st
Keenan, Holly
2nd
McKnight, Mast Tom
2 Intermediate Showmanship (handlers aged between 13-15 years on 1st January 2016)
1st
Corley, Rachel
2nd
Gunn, Karen
3rd
Gordon, Mr Thomas James
3 Senior Showmanship (handlers aged between 16-20 years on 1st January 2016)
1st
Doupe, Sarah
4 Mature Showmanship (handlers aged between 21-26 years on 1st January 2016)
1st
O'Sullivan, Stacey
2nd
Hunter, Karen
3rd
Farren, Stephanie
19 HEIFER, born after 1st June 2015
1st
Gunn, Mr JJ
ERNEVALE BROKAW MARYAM
2nd
Hurley, Garry
CLONPADDIN ATWOOD FAME
3rd
Corley, Brian
CORNBORO GOLDIE ALICE
4th
McAufield, Conor
LISSUE DOORMAN FAME 2
5th
McKnight, Mast Tom
LISSUE DOORMAN FAME 3
6th
Booth, George & Jason
BEECHVIEW INTEGRAL LALITA RED
7th
Keenan, Christian
CORETARD GOLD ROMEO
Exhibitor Bred
Gunn, Mr JJ
ERNEVALE BROKAW MARYAM
20 HEIFER, born on or after 1st June 2014 and on or before 31st May 2015
1st
Greenan, Padraic
GREENLEA STONEWALL OCEANE
2nd
McAufield, Conor
LISSUE DOORMAN FAITH
3rd
Lumville Holsteins
LUMVILLE E DANOISE
4th
Booth, George & Jason
BEECHVIEW ATWOOD JUNE
5th
Pollock, Mr Jason
GARRICK SANCHEZ ECHO
Exhibitor Bred
Greenan, Padraic
GREENLEA STONEWALL OCEANE
22 HEIFER, in milk, must have calved by three years of age
1st
McCormick S & J
HILLTARA IMPRESSION ECHO
2nd
Paul Flanagan
FUTURE DREAMS ABSOLUTE JOY
3rd
Hurley, Garry
CLONPADDIN LAVANGUARD FLAVOR VG 88 2YR
4th
Glenwood Farm
LETTERKENNY GOLDSUN SQUAW
5th
Hallow Holsteins
HALLOW LAVANGUARD CHRISI
6th
Booth, George & Jason
BEECHVIEW DAZZLER GAIL
7th
Cromie, Mr Roy
DALEVALLEY DAM J LULU ET
Exhibitor Bred
McCormick S & J
HILLTARA IMPRESSION ECHO
Best Udder in Class
McCormick S & J
HILLTARA IMPRESSION ECHO
23 HEIFER, in milk, must have calved by three years of age
1st
Lumville Holsteins
LUMVILLE ABBEY
2nd
McCormick S & J
HILLTARA ATWOOD REANN
3rd
Colton, Mr Patrick
ARDNASALEM A SEAVER RONIN
4th
Robinson, Steven
CLUNTAGH GOLDWYN MARIE
5th
McCormick S & J
HILLTARA GOLDWYN DIVINE 2
6th
Witherow, Mr Norman & Ian
ARDVARNOCK WINDBROOK SANCHEZ E
7th
McCorry N & Sons
DERRYMOE GOLDSUN JACKIE
Exhibitor Bred
McCormick S & J
HILLTARA ATWOOD REANN
Best Udder in Class
McCormick S & J
HILLTARA ATWOOD REANN
24 HEIFER, in milk, must have calved by three years of age
1st
O'Neill D & Boyd D
DALEVALLEY GWY EMBRACE 2 VG86
2nd
Hurley, Garry
CLONPADDIN WB FAME VG88 2YR
3rd
Gunn, Mr JJ
ERNEVALE AFTERSHOCK LULU
4th
Nevin, James
BALLYMENAGH RIC AALTJE RED
5th
McAufield, Conor
CLONPADDIN G CHIP FAME
Exhibitor Bred
Hurley, Garry
CLONPADDIN WB FAME VG88 2YR
Best Udder in Class
Hurley, Garry
CLONPADDIN WB FAME VG88 2YR
25 COW, in milk, having had two calvings at date of Show
1st
Hallow Holsteins
HALLOW ATTIC CHRISTINA
2nd
Booth, George & Jason
BEECHVIEW AKON DANNA
3rd
Robinson, Steven
ERNEVALE DESTRY LULU RED
4th
McCorry N & Sons
DERRYMORE SNOWMAN JOLLY RED
5th
Booth, George & Jason
WYNDFORD SID AUGUST 26
6th
Gunn, Mr JJ
ERNEVALE DESTRY TRIUNA
Exhibitor Bred
Hallow Holsteins
HALLOW ATTIC CHRISTINA
Best Udder in Class
Booth, George & Jason
BEECHVIEW AKON DANNA
26 COW, in milk, having had two calvings at date of Show
1st
McCormick S & J
HILLTARA WINDBROOK MAUDE 3
2nd
Pollock, Mr Jason
GLASSON JORDAN AMBROSIA
3rd
McCormick S & J
HILLTARA LAUTHORITY ECHO 2
4th
Paul Flanagan
TUBBERTOBY SID JENN
5th
Magowan, Mr Andrew
BANNWATER GOLDILOCKS SHEBA 72
Exhibitor Bred
McCormick S & J
HILLTARA WINDBROOK MAUDE 3
Best Udder in Class
McCormick S & J
HILLTARA WINDBROOK MAUDE 3
27 COW, in milk, having had three calvings at date of Show
1st
McCormick S & J
HILLTARA BOLTON MAUDE 3
2nd
Booth, George & Jason
LAURELMORE ARES PIA S
3rd
Baldonnel Holsteins
CLONPADDIN G FAME
4th
Colton, Mr Patrick
ARDNASALEM BALTIMOR ROBIN
5th
Wallace, Mr Gaston
PRINTSHOP GOLDENBALLS BELLE 47 VG88
6th
Paul Flanagan
TUBBERTOBY ATWOOD FRAN
Exhibitor Bred
McCormick S & J
HILLTARA BOLTON MAUDE 3
Best Udder in Class
Booth, George & Jason
LAURELMORE ARES PIA S
28 COW, in milk, having had four or more calvings at date of Show
1st
Murphy, Liam
EVERGREEN DUPLEX EBONY
2nd
Colton, Mr Patrick
BEECHFORD SHUTTER ELLA 2
3rd
McCormick S & J
HILLTARA FEVER TURY 2 EX93
4th
Gunn, Mr JJ
ERNEVALE JASPER ROSINA VG88
5th
Kelly, Mr Tom
MONAMORE SVO FRAULINE
6th
Hallow Holsteins
HALLOW LHEROS INDIANINK
Exhibitor Bred
Murphy, Liam
EVERGREEN DUPLEX EBONY
Best Udder in Class
Murphy, Liam
EVERGREEN DUPLEX EBONY
29 COW, in milk or in calf, having produced a minimum of 50,000kgs in her lifetime
1st
Hallow Holsteins
DESMOND DUNDEE EMBRACE
2nd
Kelly, Mr Tom
MONAMORE PNH DARLENE EX
3rd
Gunn, Mr JJ
ERNEVALE SHOTTLE MARYAN EX93
Exhibitor Bred
Kelly, Mr Tom
MONAMORE PNH DARLENE EX
Best Udder in Class
Hallow Holsteins
DESMOND DUNDEE EMBRACE
S19 Breed Championship
Champion
Hallow Holsteins
DESMOND DUNDEE EMBRACE
Reserve Champion
Murphy, Liam
EVERGREEN DUPLEX EBONY
S20 Best Exhibitor Bred Holstein - £100
Exhibitor Bred
Murphy, Liam
EVERGREEN DUPLEX EBONY
S21 Heifer Championship
Champion
McCormick S & J
HILLTARA IMPRESSION ECHO
Reserve Champion
O'Neill D & Boyd D
DALEVALLEY GWY EMBRACE 2 VG86
S22 Junior Championship
Champion
Gunn, Mr JJ
ERNEVALE BROKAW MARYAM
Reserve Champion
Greenan, Padraic
GREENLEA STONEWALL OCEANE
S23 Premier Exhibitor in Section Award
1st
McCormick S & J
S24 Novice Exhibitor Award
1st
Greenan, Padraic
S25 Inter Breed Championship
Supreme Interbreed Champion
Hallow Holsteins
DESMOND DUNDEE EMBRACE
Reserve Interbreed Supreme Champion
Murphy, Liam
EVERGREEN DUPLEX EBONY
Interbreed Champion Honourable Mention
Hunter, John
SANDYFORD HONEST BLIZZARD
S26 Inter breed Heifer Championship
Champion
McCormick S & J
HILLTARA IMPRESSION ECHO
Reserve Champion
O'Neill D & Boyd D
DALEVALLEY GWY EMBRACE 2 VG86
3rd
Clandeboye Estate
CLANDEBOYE TEQUILA COOKIE
S27 Inter breed Junior Championship
Champion
Gunn, Mr JJ
ERNEVALE BROKAW MARYAM
Reserve Champion
Greenan, Padraic
GREENLEA STONEWALL OCEANE
3rd
Hunter, John
SANDYFORD BURDETTE CLOVER 2