Royal Ulster Agricultural Show – Winter Fair 2014
 Desmond Dundee Embrace is Supreme Interbreed Winter Fair Champion 2014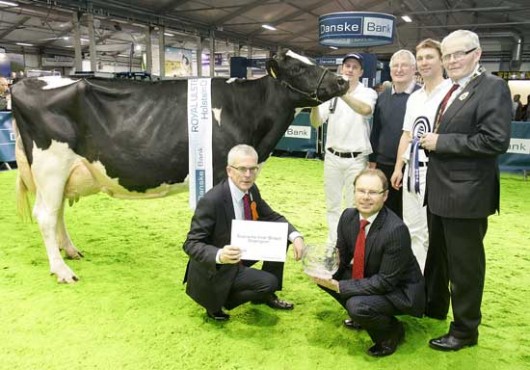 ---
Report on the 29th Winter Fair by Donal Carey
---
Southern Breeders take the plaudits with Hallow Holsteins Desmond Dundee Embrace crowned Holstein Champion and Senior Interbreed Champion & Best Udder and Hallow Bordermist Sid Fran taking Reserve Holstein Champion, Interbreed Heifer Champion and Interbreed Senior Honourable Mention for owners John & Jack Cooney.
A large number of Breeders from across the Republic once again made the trip to Belfast's King Hall Pavillions near Balmoral for the 29th RUAS Winter Fair. It was a tremendous display of cattle for the final show of the year. YMA was also very strong with members to the fore in the handling classes;
---
Novice & Junior Showmanship
1st Rachel Corley, Smithboro, Co.Monaghan . 2nd Rebekah Williamson, Drumshanny, Co. Monaghan
Senior Showmanship
1st Andrea Rafferty, Mullabrackscott, Co. Monaghan. 3rd Stacey O' Sullivan, Knockbrown, Bandon, Co. Cork.
Mature Showmanship
1st Ann Maree Manley, Monasteroris, Edenderry, Co. Offaly
---
The Judge for the Show was Mr. Brian Carscadden from Canada. Based in Ontario, he is a graduate of the University of Guelph and works as a Sire Analyst for Semex. He has completed many international judging assignments including the World Dairy Expo in 2008.
In summing up, he said "The quality of the cows entered for this year's Winter Fair was exceptional with many of a standard that would be hard matched at most international dairy events".
Southern breeders enjoyed success throughout the day. Clonpaddin GKS Fame won the 2nd calver class for the Hurley family, Arklow. She also won Best Udder of the class. She was followed in 2nd place by Clonpaddin G Fame exhibited by Cyril Dowling and Mervyn Eager.
Crossnacole Precious Gold was 1st in the 3rd calver class and was also Best Udder for Victor Jackson.
Hallow Holsteins dominated the 4th calver class with 1st and 2nd for Desmond Dundee Embrace and Hallow Advent Twizzle 3 respectively. Judge Carscadden also gave best udder to the Dundee cow. Hallow Lheros Indianink won the Dry Cow class earlier in the day.
Ringside was jam-packed as the line-up for the Championship took shape.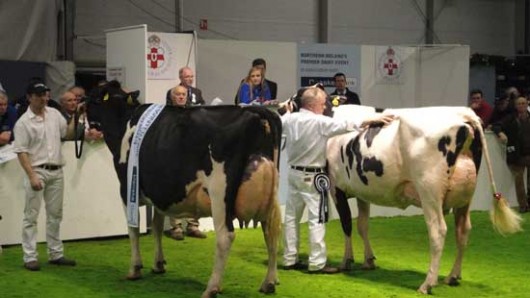 Brian Cascadden selected his final line out of 5 cows which included the champion heifer "Hallow Bordermist sid Fran" owned by John&Jack Cooney,Reserve champion heifer "Glamour Iota Ambrosia"owned by the Henry Family,Junior cow in milk "Ards AtwoodLou Ella" owned by H Patton&Sons,cow in milk having three calvings "Crossnacole Precious Gold"owned by Victor Jackson, cow in milk having had four or more calvings "desmond Dundee Embrace" owned by Philip Jones & Roy Cromie.
Before delivering his ultimate decision the judge paid tribute to the breeders from Northern Ireland and the Republic who had turned out their cattle so well for the Show. He added some fitting words "Shows help to bring everyone together as a great vehicle to drive the industry forward. They are a lightning rod to keep breeding better and better cows". He remarked that the cows in the Championship line-up are "Great cows with super udders. These are the type of cows to last for long lifetimes." The tension of anticipation came to a finale as he tapped out Desmond Dundee Embrace as Champion and congratulated Richard Jones on the halter. She also took Best Udder of the Show. Describing her as "A truly balanced cow having an outstanding mammary system and such an impressive frame. She has an amazing width and crease in her Mammary, an ideal fore udder attachment".
John & Jack Cooney's Hallow Bordermist Sid Fran was tapped out as Interbreed Honourable Mention with the Judge describing her as "A beautiful topped youthful cow, with tremendous width of rear udder. She will have her day in the future." This senior heifer was 1st in her class, Best Udder and Inter Breed Heifer Champion.
Desmond Dundee Embrace ET EX93 3E is owned by Philip Jones, Gorey, Co. Wexford and Roy Cromie, Co. Donegal. She calved for the 4th time in May, 2014. She was 1st in the 4 year-old class, Honourable Mention and Best Udder at Emerald Expo. To date she has produced almost 40 tonnes of milk, 3,200 kgs Milk Solids @ 4.64 % Fat, 3.58% Protein. By Regancrest Dundee EX, Embrace is bred from an EX95 Durham Grand- Daughter of Krull Broker Elegance EX96. She completes 8 generations of EX maternal breeding.
R.U.A.S. Chief Executive Colin McDonald said that "Despite the challenging outlook for milk prices, there was a tremendous turnout of dairy farmers at the Winter Fair. Established in 1985, the Winter Fair is very much a landmark event for the dairy industry. Market prices within the sector will come under pressure during the first half of 2015. However, the resilience of milk producers continues to impress. Most within the industry have expressed the view that the long term prospects for milk are extremely positive".