RDS Champion of Champions 2011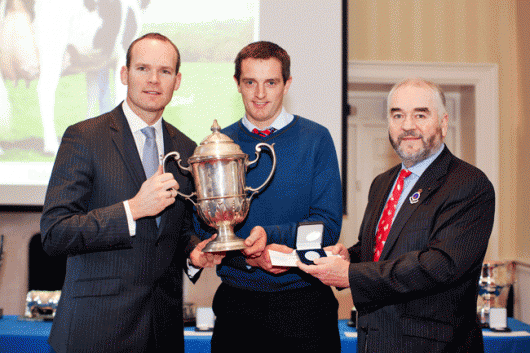 The Royal Dublin Society(RDS )hold a special Award each year to honour champion animals throughout at the various shows. This includes Dairy, Beef and Sheep.
This award is in keeping with the tradition of the founding fathers of the RDS who 280 years ago recognized the importance of Agriculture to the economy at that time and to demonstrate breed improvement as measured at shows. Modern scientific analyses are used today as well as the show to measure genetic improvement.
The minister for Agriculture, Simon Coveney TD, referred in his address how Agriculture will be a key driver in getting the economy back to full strength and how important shows are in displaying quality and excellence in food production.
Dr.Sinead Mc Partland,Teagasc gave a talk on the Economic Breeding Index and its role in cattle breeding. She also gave an outline of areas of research carried out by Teagasc and how important research findings can be used in food production to achieve efficiencies and differentiate product.
The Irish Holstein Friesian (IHFA) award went to Dalevalley OTI J Lulu EX 95(2E) by Astronomical, owned by Sean Murphy,Ardrostig,Co Cork.
Her 305 day recording,4th Lactation is 13,179 kgs milk with 817kgs milk solids. She was champion Baileys cow in 2011 and also champion at Cork show.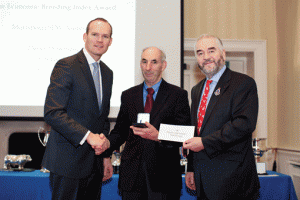 The Genetic Index Award EBI 2011 goes to Morisheen SPW Audeen 5.  Owned by Denis Downing, Grenagh, Co. Cork.
Morisheen SPW Audeen 5 has an economic breeding index of €245. She is a second calf cow by Oman (OJI)
The dam of this cow was a previous winner of the award back in 2008 also.