Pure Friesian Open Day at Firoda Herd
The Irish Pure Friesian Open Day returns to Firoda Herd after ten years
Thursday 11th of July
Firoda Herd, Castlecomer, Co. Kilkenny
Eircode R95 AV2D
The Firoda Herd of Peadar and Maureen Healy is yet again playing host to the Irish Pure Friesian Open Day on Thursday 11th of July. They last hosted the event on the farm in 2009. To launch this, the Healy family were joined by representatives of the Pure Friesian Club and Irish Holstein Friesian Association, alongside sponsors FBD and Dovea Genetics and other members of the agri industry.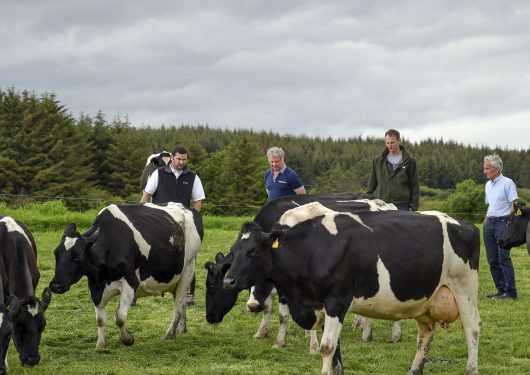 The Firoda Herd, based near Castlecomer in Co. Kilkenny, was founded on a deep passion for quality breeding by Peadar's father Ned. Following over 60 years of Friesian breeding and now in its third generation, Maureen, Peadar and son Eamon farm in partnership, milking 120 deep pedigree Friesian cows, with surplus stock offered for sale annually.
The herd consistently yields over 6,500kgs milk per year (1,400 gallons approximately). Last year the herd of 114 pedigree registered cows recorded 3.74% fat, 3.63% protein, 553kgs milk solids per cow.
Peadar's formative years moulded his lifetime dedication to the pursuit of excellence in Friesian breeding. With his father Ned being one of the very first farmers to adopt milk recording, use of AI and sire progeny testing, Peadar can clearly recall the memories of milking cows when modern technology as we know it today was in its infancy.
After school each day he looked forward to completing his daily task of transferring the details recorded on the AI docket into a breeding book. These treasured books were judiciously archived and stored by Peadar. Grading up the herd to pedigree status was a very straight forward process due to the high level of records maintained.
Peadar has always embraced new developments. On genomics Peadar states "I have no problem using genomic sires, so long as these bulls are bred from classified dams, preferably scoring excellent (EX)." 43 cows in the herd have been scored VG or EX following the most recent IHFA classification visit.
37 cows in the herd were fourth lactation and older last year, representing the natural longevity and maturity of the Friesian breed. These cows averaged 7,904kgs milk, 3.73% fat, 3.65% protein 584kgs milk solids. Cow families in the herd include Twink, Pollie, Sandy, Twain, Judy, Karina and Snow.
Peadar has a number of very successful bulls in AI with many of them proving popular in Irleand and the UK.
Firoda Herd is an award winning herd with numerous All Ireland Awards in 2018, attaining third place in the Pure Friesian Club National Herds Competition in 2018 as well as many IHFA Gold and Diamond awards for protein production.
Careful, continuous nurturing of the farm over the years has enabled steady herd expansion, from an initial outlay of 15 cows at the outset to today's level of progress where 100 cows is regarded as the optimum to harvest the ability of the farm's natural resources.
Everyone is welcome to attend the Pure Friesian Open Day on July 11th. There will be open stock judging, an awards presentation for the Pure Friesian Herds Completion and Stock Judging Competition and an exhibition of trade stands.
There will also be a celebration sale of stock on the day with 26 lots on offer, comprising 20 heifers and 6 bulls. For more details, see the sale catalogue HERE