Pure Friesian Open Day 2018 – Raheenarran Herd
Raheenarran herd hosts Pure Friesian Open Day 
300 cow home-bred herd backboned by Friesian breeding completes expansionary phase! 
Bryan and Gail Daniels & family RAHEENARRAN herd will host the Pure Friesian Club Open Day on June 6th. The 300 cow Pedigree Registered Raheenarran herd is a top performing Spring calving herd backboned by Friesian breeding and making excellent use of grazed grass farming at over 900 feet above sea level. The annual co-op performance report identifies the top benchmarks achieved;
422 kgs Milk solids delivered per cow
3.66 % Protein (top 10%)
38.9 cent/litre milk price (top 10%)
365 day calving interval (top 10%)
90 % six-week calving rate (top 5%)
SCC 71 (top 5%)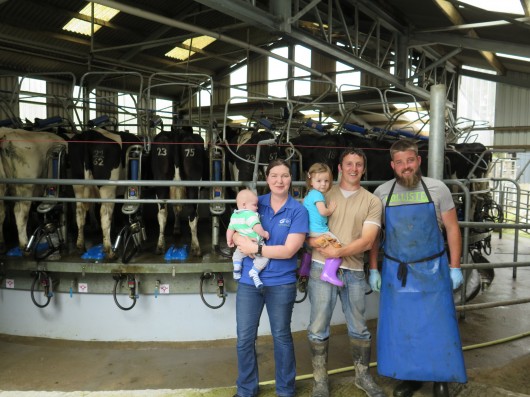 Having taken over the farm from his parents at the age of 19 Bryan immediately identified dairying as the enterprise to drive the best return and the Friesian cow as the best vessel to achieve this. The herd was Graded Up using the IHFA service with Pedigree status achieved quickly thanks to the records maintained. The strength of cow families was evident from the outset and the power of maternal breeding generation after generation has allowed for herd expansion from within. Cow numbers today are treble the size of the herd when starting out.
There has been considerable interest from AI organisations in the herd genetics. Raheenarran MEB Sochar (RHS) was the first bull to enter AI. Sired by Morbeker Bas, his evaluation now includes 1,029 Irish milking daughters in 372 herds. His dam Raheenarran Hylke Breda VG87 proved to be a popular attraction as a Bull mother. She scored EX92 for Legs & Feet and this functionality score captured her longevity, lasting in the herd for 14 lactations. In total she produced over 6,000 kgs milk solids with Protein to 3.98 %. Her Blackisle Glenalby son BCG Sochar (RVJ) Currently he has over 4,000 Irish milking daughters and also has milking daughters recorded in Australia. Another son Raheenarran Bod was retained as a service sire for the herd and he has bred some very nice and consistant daughters. He has featured in previous IHFA Journal listings of high genetic merit Pedigree sires bred from VG/EX Dam and Grand-Dam having high PTA's for Fertility. Recognition of the breeding prowess of Hylke Breda continues apace with the two most recent bulls selected for AI descending from this flagship cow. Mr Jingles (ZJJ) is a Great Grand Son and Mr Potter (FR4133) born in 2016 is a further generation on.
The ability to last and inherent good fertility of the Friesian is such that herd empty rate is typically between 7 – 11 % per year and this provides for a positive culling policy with up to 10% voluntary cull every year. 100 % AI is used in the milking herd. Genomic testing is carried out on the top quartile every year to aid data-based breeding decisions. In recent years surplus heifer calves are sold on the farm to repeat customers who are very happy with their purchases Also adding to stock sales and boosting income is the sale of 4-5 Pedigree Registered Bulls for breeding each year.
Bryan and Gail are a hard-working team dedicated to the success of the farm and attaining key annual benchmarks of success, incrementally increasing cow numbers form an initial 90 in 2007 up to 300. The Friesian breed with some recent usage of high EBI Holstein Friesian has been the focal point around which Bryan and Gail achieved their goals. For those looking to increase cow numbers this herd is testament to the importance of the Black and White breed in delivering performance. The graph upwards has been helped by Bryan's parents and family with herdsman Andrew Doyle and other farm staff contributing along the way.
Located near Kilmoganny the farm is 15 minutes from the M9 motorway via Junction 10. Eircode R95 P202
Read the full article on the herd from the Irish Holstein Friesian Spring Journal 2018 here