Pat Flynn – Coolmohan hosts Pure Friesian Open Day 2016
The Irish Pure Friesian Club Open Day 2016 will be hosted by Pat & Nora Flynn and family "Coolmohan" herd, Araglin, Kilworth, Co. Cork. The "Coolmohan" herd has garnered a strong profile in recent times with National recognition in attaining No. 1 position for EBI three years in a row.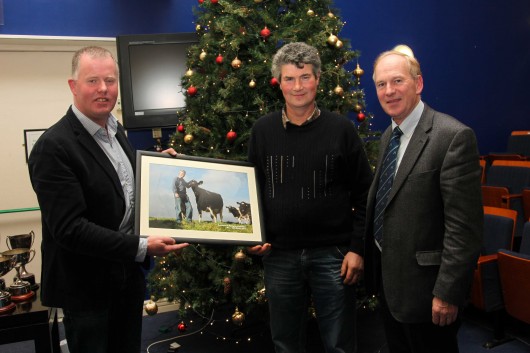 Pat and Nora work as a team with Nora taking charge of calf rearing and completing all the paperwork throughout the year.
A balanced herd featuring Pedigree Registered Friesians clearly delivering in terms of output, strength of cow families and high genetic merit stock will be a key message at the Pure Friesian Open Day on June 22nd.
The Coolmohan prefix was registered over a decade ago with Pat taking the decision to become a member to establish a Pedigree Registered herd through the Grade Up process of the Association. Milk recording, pedigree registration and Classification have all helped to develop and progress the herd. Home-bred cow families, graded up with the Herdbook are the bedrock of the herd today, with replacements developing into mature cows and lasting for many lactations, an indictment for the fertility and longevity inherent in the Pure Friesian. A significant proportion of the milking herd is classified to VG/EX standard on conformation, helping to put the structural functional traits in place for this longevity and efficiency of production to be expressed.
Last year Pat milked 84 Pedigree Registered Friesians with an average production of 7,231kgs 4.19% Fat, 3.80% Protein, 578 kgs Milk Solids. Average calving interval was 364 days, average SCC was 87. Herd health is an important element of herd management with Pat being very conscious of availing of the best tools available in this regard.
Pat commented "The foundation of my herd is all homebred using A.I. and stock bulls from top Friesian cow families nationwide. Grove Image bloodlines worked exceptionally well. Lavenham Soldier produced cows that were very consistant. More recently I have been very pleased with Holwerdo Torello. Nowadays I believe I need to diversify the sire lines used in breeding the next generation. A.I. is typically used for the first three weeks of the breeding season
A number of cow families are very prominant in the herd;
Coolmohan Rebecca Image 1 EX92 5E, currently in her 10th lactation. With many sons of her available through AI she may be recognisable to many. In her lifetime, she has produced 5,697kgs of milk solids, 4.73% Fat, 4.00% Protein.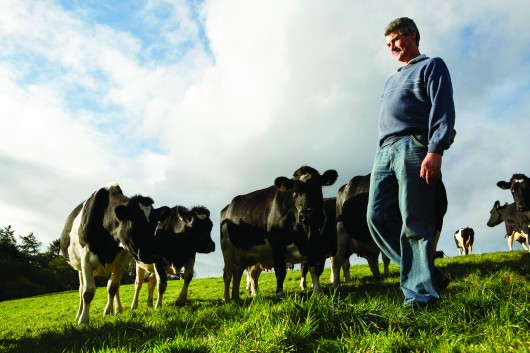 Coolmohan Petula Image 1 EX92 5E who produced over 5,800 kgs of Milk Solids in her lifetime with an average 4.75% Fat and 4.13% Protein in nine lactations. She calved regularly every year since joining the herd and actually calved twice in 2008!
There are over 20 members of this family currently in the herd. Coolmohan Norton Neway 6 EX90 2E who achieved IHFA Diamond award status for surpassing 3,000 kgs Protein production. She has completed 11 lactations thus far.
Coolmohan Lily Sunburst EX90 has recently calved in with her 8th calf. She has a lifetime average yield of 3.72% Protein and has three milking daughters in the herd and two younger heifers.
Coolmohan Fairface Albie VG86 now in her 7th lactation with Protein to 3.75%. She has an EBI of €300 and is a much-admired daughter of Ballykennedy Albie Sim.
Coolmohan Fairface Albyn VG85 is among the highest EBI animals in the herd at €325. She is a younger members of the herd, on her fourth calf. She has Protein to 4.01% and is bred from Gortfadda Albyn 5.
Members of these cow families will be among the teams of cows for stock judging on the day.
A common theme across the herd is the successful impact of stockbulls that were hand-picked. In the early years of developing the herd Pat focused the breeding of the herd from genetics that met his individual criteria. Over half of the herd is bred from stockbulls with Pat using his keen eye for stock in assessing suitable breeding bulls to use. His selection policy was to follow the top cow families across the top performing Friesian herds and focus on the highest protein bloodlines from these families.
Bulls who have left a positive influence on the herd include; Ballykennedy Lyselle Image, Fergus Marty 22, Reary Norton, Churchclara Manager.
In recent times there has been increased use of AI to help progress the herd further. Pat reports satisfaction with HWT, DVT, BFU LSU and LPO. Diversification of bloodlines is an important consideration in striving to maintain a balanced approach to breeding policy.
Genomic testing has been used in recent times however Pat placces a lot of trust in depth of breeding and proven cow family performance in making informed breeding decisions.
Pat has been selling bulls from the Coolmohan herd for the last fifteen years with up to sixty bulls sold some years. So far, five bulls have been purchased by AI stations.
The milking herd is run over a grazing platform of 91 acres on the home block with some grass being zerograzed in by a contractor from outside blocks. All male calves are kept for breeding bulls and all heifer calves are reared for replacements or sold as surplus breeding stock.
Pat and Nora & family would like to welcome all to the Open Day on June 22nd for what promises to be a very informative showcase of Pure Friesians!