National Ploughing Championship 2018
The 87th National Ploughing Championships is unfortunately bookmarked by the wielding influence of Storm Ali, resulting in a day's cancellation, only the second time in its history for a weather-induced cancellation since the Ploughing Championships began in 1931. Thankfully the IHFA Ploughing pavillion did not suffer storm damage and the crowds in attendance had an opportunity to get an overview of Holstein Friesian breeding and to also engage with staff.


The IHFA message that "The Holstein Friesian is the most efficient breed with proven performance and genetic variation to suit all dairy farming systems" was a central theme in the pavillion. Seven Holstein Friesian cows in-milk were on display kindly loaned by local breeders as an example of the proven performance of the breed in all areas nationwide. The cows were loaned by local breeders; Eoin Lyons (Raheenglass), Padraig Minnock (Kilgurton), Richard Claxton (Richvale), Sam Brennan (Kilclonfert), James Ward (Woodview Friesians) Kevin Flynn (Reary).Performance in terms of milk solids production, protein %, conformation, regular calving intervals and Longevity were highlighted. The following is the set of averages for the team of cows on display;
| | |
| --- | --- |
| Milk kgs | 8,603kg |
| EBI | €98 |
| Classification | VG88.2 |
| Kgs Milk Solids | 647kg |
| Fat % | 4.12% |
| Protein % | 3.54% |
The quality of the cows and the set of performance figures made a big impression. The Ploughing Championships with its huge attendance figures ensures it is the foremost commercial agricultural platform in the Country. IHFA personnel have the opportunity to engage with this sector. President Peter Kennelly was on-hand to meet and welcome visitors from far and near. There was steady demand for copies of the IHFA Journal.
Ryan Tubridy RTE presenter & broadcaster visited the IHFA pavilion and dutifully sat down to milk a cow by hand, his first time to ever do so. The entourage that followed his arrival ensured the experience was captured by a plethora of cameras and photos were published in the National press. Many social media posts ensued, including from Mr. Tubridy himself who has over 31,000 followers.
The townland of Screggan outside Tullamore in Co. Offaly was the host site once again this year. Figures from the NPA reveal an attendance of 240,700 visitors, paying tribute to the "indomitable" spirit of the farming sector. There was a total of over 1,700 trade stands commanding an exhibition space of 2 million feet.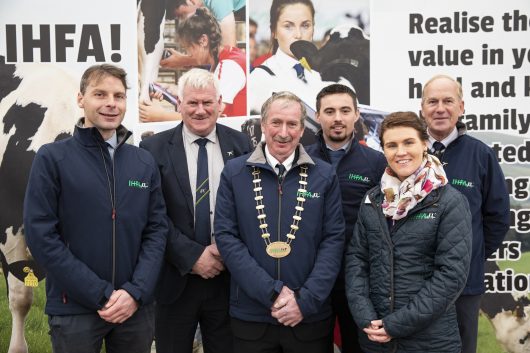 Thanks to the breeders for loaning their cows to IHFA for the exhibition. Thanks to Richard Jones for the care and supervision of the cows throughout the extended Ploughing period, aided by John Kirby who also led the groundwork in terms of team selection. My gratitude and appreciation to the Neville family, Tullamore for supplying the silage. Thanks also to IHFA staff and Michael Lyng for the support and assistance throughout.