National Hall of Fame Award 2018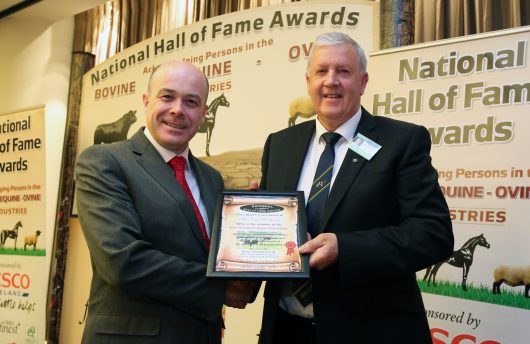 IHFA was delighted to nominate Dessie Dunleavy for the National Hall of Fame Award 2018. His knowledge and achievements in Holstein Friesian breeding is such that he is known the length and breadth of the country. He is recognised as a top-class judge, eminent breeder and renowned stockman.
Dessie commands a tremendous intuition and his passion for quality Holstein Friesian breeding knows no bounds.
A native of Letterbarrow, Co. Donegal, Dessie graduated from Warrenstown Agriculture College in 1972. Following his agricultural education he joined the staff of St. Patrick's College, Kiltegan, Wicklow as manager. In 1977 he began working for Mr. J.J. Kelly Moneymore herd, Drogheda as manager. With dedication and stockmanship, he showed Moneymore Bunty 6 to win the Championship at the RDS in 1983. They went on to win both the Champion and Reserve Champion at the very first National Dairy Show in Millstreet in 1983. This was the start of a twenty year spell where the Moneymore cattle and Dessie Dunleavy on the halter were synonymous with unparalleled achievement around the country, including the Navan National Dairy Show. Dessie's name will always be linked with cows like Moneymore Bunty 6, Moneymore Bluebell 32 and Moneymore Cleitus Nancy.
Following the dispersal of the Moneymore herd in 1999, Dessie joined the AI industry. His solid advice on breeding and good counsel is always in demand – covering the north eastern and Ulster counties. Dessie is a staunch supporter of his local North Eastern Friesian Breeders Club and has played a very active part in the club since it was founded. He has held many officer positions over the years and helped contribute to a very active and successful programme of events. Club members bear testament to the remarkable contribution made by Dessie. He has always been very helpful to the young members in YMA, encouraging and supporting them in their education along the pathway towards their future careers.
His reputation as a judge precedes him and such is the esteem that he is held in that he has judged at all the main dairy shows throughout the country. He has also judged abroad including the Belgium National Holstein Show and also Northern Ireland. He is a popular judge for club herds competition and on recollection it seems that he has judged each club area twice.
Dessie's passion and commitment to quality breeding of bloodstock extends to Connemara ponies and he has a very active involvement in the Society. National recognition for Dessie's commitment and stellar role in quality Holstein Friesian breeding was conferred when he was elected as IHFA President in 2007. Nominated by his club, Dessie was a very popular choice in this national role and accompanied by his wife Angela they traveled the country attending the many events held nationwide during his term of office. A particular highlight was the hosting of the IHFA National Holstein Friesian Open Day in the North Eastern Club, hosted by the Cannontown Herd of Michael McDonnell and family. As President Dessie had the honour of presenting the prizes to the winners which included his native county men from the Donegal Club. Dessie and Angela have shared a loving home with a large family over the years; Michael, Evanna, Andrea, Sean, Paddy, Dean, Stacey and Christina.