IRISH JOHNE'S CONTROL PROGRAMME (IJCP)
IHFA is a patron of Animal Health Ireland and supports all AHI Initiatives.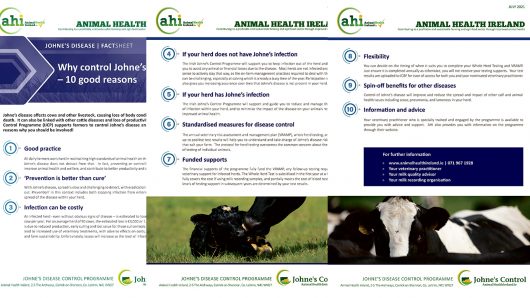 Read more about the importance of this programme here.
Phase Two of the Irish Johne's Control Programme is open to all dairy farmers across the country, based on voluntary participation. Farmers currently registered in Phase One of the programme automatically have their registrations carried forward to Phase Two.
Funding will be provided jointly by the Dept. of Agriculture, Food and the Marine and individual milk processors with a commitment to maintain financial supports over a four-year period for each herd. This funding will assist herd owners to carry out whole herd testing, Veterinary Risk Assessment and Management Plans (VRAMP) and ancillary testing where required.
Note for breeders selling and exporting to the north of Ireland
As part of the one island disease strategy Johnes testing will become part of the Red Tractor Scheme in Northern Ireland from 2020. 80% of herds in Northern Ireland are in this quality assurance scheme. Therefore it is important for those exporting heifers to have their herds tested.
Bulk milk testing as a surveillance screen is in place and funded by DAFM since autumn 2019. Also a trial on using faecal samples as a surveillance screen will be assessed. 140 herds are being recruited. Six manure samples during the winter housing period will be taken and compared with Blood samples.
This system is already in use in the USA and will form a validation assessment of the system for Ireland. This work will be carried out by Niamh Field of Teagasc and funded by DAFM.
For further details and to register, contact your local milk processors or AHI (www.animalhealthireland.ie).