IHFA at the Ploughing 2019
Irish Holstein Friesian Association at National Ploughing Championships 2019
Block 3 – Row No. 7 – Stand No. 167
September 17, 18 & 19, 2019
The Irish Holstein Friesian Association (IHFA) theme at the Ploughing Championships is that the breed has the genetic diversity and wide variation to suit all dairy farming systems.
The breed has the genetics to sustain family farm income throughout the year from a combination of delivering high milk solids, high cull cow and calf sales and the sale of breeding stock.


A bit about the stand
All visitors attending this major agricultural event are invited to visit the IHFA Ploughing pavillion located at Block 3 – Row No. 7 – Stand No. 167
A team of pedigree registered Holstein Friesian cows demonstrating the wide genetic variation will be on display, all kindly loaned by breeders local to the general area. The cows on show demonstrate that there are good Holstein Friesian cows in every part of the country who can be graded up to pedigree status. To facilitate this opportunity IHFA will have a special Ploughing Grade-Up Offer.
Recorded performance and genetic evaluation figures of the display cows will be prominant to demonstrate breed efficiency and contribution to output. The daily milking of the cows always draws a large crowd of curious onlookers, for some it may be their first time to witness cows being milked! The cows also demonstrate the benefit of IHFA services such as pedigree registration and conformation scoring to help add value to dairy herds.
What's on show
IHFA staff and personnel will be on the stand to meet visitors and help with queries to impart practical advice and knowledge on the breed and find out how to unlock potential from within your dairy herd.
The Young Members Association (YMA) is the youth arm of the Association, for young people up to 26 years of age. It is a fun and educational forum linked by a club network throughout the country. It is a great way for young people with a keen interest in dairying to develop skills and make new friendships. New members are always welcome to join. You can sign up at the Ploughing Championships by completing the membership form.
Demonstration on IHFA Conformation Scoring – a visual explanation of the linear scoring/conformation service to help understand this unique service.
Upcoming events
The National Dairy Show, Millstreet, Co. Cork takes place on Saturday October 19th. The finale to all the showing season, breeders throughout the country will descend to Millstreet to compete for National honours.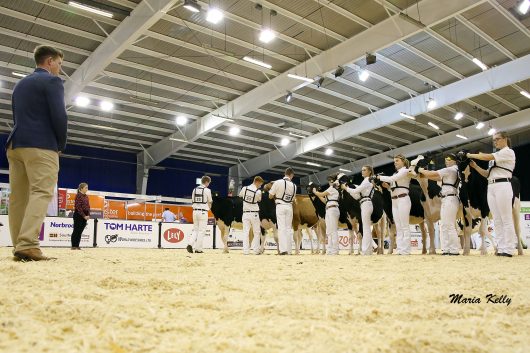 The Young Members (YMA) will hold the final of the Showmanship League competition on the evening prior to the National Dairy Show. The League is an innovative competition specifically for Young Members (aged up to 26 years) focused on his/her talents to exhibit a calf in the show ring under the scrutiny of the judge. Members have competed at local shows throughout the summer to accumulate points to qualify for the final.