Emerald Expo 2019 & Expo Express Sale
Emerald Expo is set to take place in the Virginia Show Centre, Co. Cavan on Saturday 27th of April. This landmark show, now in its ninth year, kick starts the showing season in the agricultural calendar. As the first dairy cattle show of the year, Emerald Expo offers classes catering for handlers, all dairy cattle breeds and six championships.
Vice President of the European Parliament Mairead McGuinness M.E.P. will perform the official opening of the show.
The Expo Express Sale will be held on the occasion of the show. Expo Express is a chance for breeders to purchase young stock from deep pedigreed cow families. The sale will kick off at 12 noon sharp and will be conducted by Denis A Barrett Auctions. Lots from this sale can be viewed here.

We look forward to greeting breeders from all over Ireland, including Northern Ireland who, will make the journey to the Virginia Showgrounds, Co. Cavan. We wish to thank our main sponsors – FDB Insurance and Glanbia.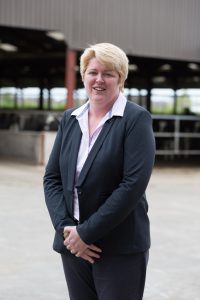 Helen Herd is judge at Emerald Expo 2019. Helen farms with her husband, Gavin, in the heart of the Yorkshire Dales. They, milk 50 Holsteins, selling surplus heifers and young stock throughout the year. Within the herd they have 14 EX, 25 VG and 7 GP, with the Twinkle family being the most consistent.
Helen has two children, Thomas (11) and Katie (8) who are both members of Lancashire HYB, with Thomas competing at Competitions Day.
Helen is a qualified chartered accountant and owns an agricultural practice in Skipton employing 20 members of staff.
"I've been an active member of Lancashire HYB and the Young Farmers Clubs from an early age, winning numerous national finals in both. I have been a member of the National Judging Panel for over 10 years."
Previous judging assignments include Balmoral in 2018, Royal Cornwall, Dumfries as well as many local and regional shows. Helen enjoys judging herds competitions and stock judging events and especially helping youngsters develop their skills.
"I look for a balanced cow, rather than the biggest cow. A cow must have well attached, youthful udders and tremendous legs and feet."
All are welcome to Emerald Expo in Saturday 27th of April. The show will commence at 9.00am and admission is free. More info is available on www.ihfa.ie or by calling 023-8833443.