RUAS Winter Fair 2018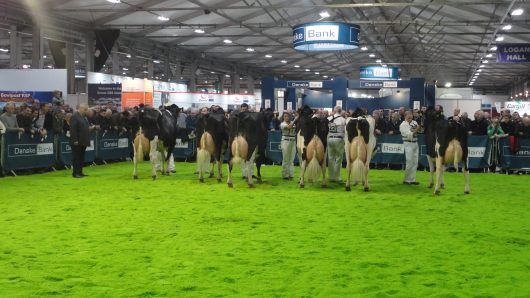 Emphatic Success for IHFA Breeders at Winter Fair
It was a virtual clean-sweep for southern breeders at the Royal Ulster Agricultural Society Winter Fair on December 13th. Baldonnel FM Sunshine exhibited by Cyril & John Dowling won Holstein Champion and Supreme Interbreed Champion. Hallow Atwood Carmen exhibited by Philip & Linda Jones won Reserve Champion and also Interbreed Reserve Champion. She was also Champion Heifer In-Milk. Philip & Linda also won Honourable Mention with Hallow Atwood Twizzle 1181.
A festive Christmas backdrop within the impressive venue of the Eikon Exhibition Centre, near Lisburn was the setting for the 33rd RUAS Winter Fair. The recent move to the new venue located further south along the A1 towards Dublin has bolstered the number of southern breeders taking part and also the number of spectators in attendance.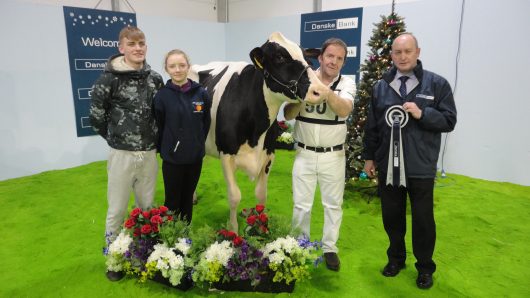 The level of success this year could be described as unparalleled. IHFA breeders swept the boards across the day, winning 1st place in all classes. Paul & Marguerite Flanagan's Tubbertoby Dempsey Natasha was 1st Junior Heifer. Lisnalty Megasire Rituel was 1st Intermediate Heifer for Paul Hannan. Drumlina Atwood Megan was 1st in the 3rd calver class for syndicate owners Boyd, Moore, O'Neill, Greenan and Timlin.
Cyril & John Dowling had further success in winning the 4th Calver Class with Clonpaddin Sanchez Fame. Bordermist Sanchez Fran won the Production Class for the Bordermist Syndicate with Philip Jones on the halter.
The Championship line-up was one of the most impressive line-ups. There was quality right the way through. Other cows in contention included Kilwarden Gold Bonnie for Brochan Cocoman, Ardnasalem Jenny for Patrick Colton, Greenlea MG Rhapsody for Padraic Greenan Sprucegrove Sea L Illinda for Aidan Foody. In the end the judge decided to go with a youthful selection for his Champion, Reserve and Honourable Mention.
Supreme Champion Baldonnel F M Sunshine is only 2 months fresh in her second lactation. Scored VG88 on IHFA conformation, she is bred from six consecutive generations of EX dams. In her first lactation she recorded over 10,000kgs milk and 660kgs milk solids (305 d). Her dam Baldonnel Jasper Sunshine ET EX91 2E was successfully imported an embryo from North America. In addition to winning her class she also won Best Udder.
Reserve Champion Hallow Atwood Carmen was singled out by the Judge saying "I love this cow, especially its her quality udder that is so pleasing and she has such a beautiful frame".
Exhibited by Philip & Linda Jones she was 1st Senior Heifer. Her success in the Winter Fair follows on from a very successful showing year having won Honourable Mention and Champion Heifer In-Milk at the Tullamore National Livestock Show. She is classified VG87 on IHFA conformation and has a projected first lactation yield of 9,192kgs milk, 662kgs milk solids.
The Hallow herd also claimed Honourable Mention with Hallow Atwood Twizzle 1181. She won 1st Junior Cow and also won Best Udder. The Judge commented on her ring presence saying she has so much "feminine, dairy quality". As a heifer she scored VG87 with VG88 mammary. Calved with her second at the end of September she recorded 8,210kgs milk, 686kgs solids, 4.75% fat 3.61% protein in her first lactation (305 d). Her dam Hallow Advent Twizzle ET EX96 4E is a noted show cow with many previous successes including the inaugural winner of IHFA Champion Cow of the Year.
Junior Champion was won by David Boyd's Leagh Solomon Maui with Rory Timlin's Lynbrook Atwood Erin in Reserve.
YMA were very strong in the Handling Classes. The Williamson sisters Rebekah and Sarah from Drumshanny, Monaghan, were placed 1st in their respective Senior and Intermediate Handling classes. Ella Flanagan was 2nd in the Junior Handling class and Holly Keenan was 2nd Intermediate Handler.
Judge Brian Behnke complimented the breeders on the quality of cattle exhibited. From Wisconsin in the USA he is an accomplished judge with many previous International judging assignments including having previously judged the Red & White Holstein classes of World Dairy Expo.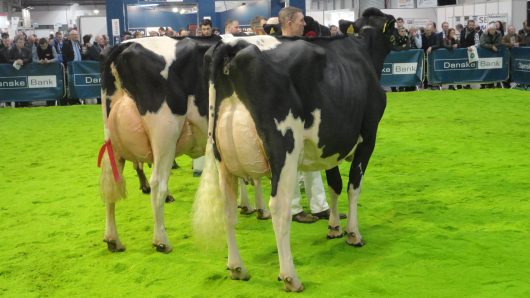 Winter Fair 2018 - Results
19     2 Intermediate Showmanship (handlers aged between 13-15 years on 1st January 2018)
1st
Sarah Williamson
2nd
Holly Keenan
19     3 Senior Showmanship (handlers aged between 16-20 years on 1st January 2018)
1st
Rebekah Williamson
19     HEIFER, born after 1st June 2017
1st
Timlin, Rory
LYNBROOK ATWOOD ERIN ET
2nd

Williamson, Rebekah
DRUMSHANNY LADD SLANEY P RED
4th

Williamson, Rebekah
DRUMSHANNY INCREDIBULL JULIA
5th

Cromie, Mr Roy
DALEVALLEY GOLD R TRACEY 3 ET
6th

Tubbertoby Holsteins
TUBBERTOBY DOORMAN FRANNY
Exhibitor Bred

Williamson, Rebekah
DRUMSHANNY LADD SLANEY P RED
20     HEIFER, born on or after 1st June 2016 and on or before 31st May 2017
1st
Boyd, Mr David
LEAGH SOLOMON MAUI
4th

Cromie, Mr Roy
DALEVALLEY S COMMOPOLITION ET
5th

Greenan, Padraic
GREENLEA MANDELLA ORAN
21     JUNIOR HEIFER, in milk, must have calved by three years of age, born after 1st August 2016
1st
Tubbertoby Holsteins
TUBBERTOBY DEMPSEY NATASHA
4th
Foody, Mr Aidan
SPRUCEGROVE DIAMOND PEGGY
6th
Leahy, Mr John
LEAGH ALONG CAME POLLY
Exhibitor Bred
Tubbertoby Holsteins
TUBBERTOBY DEMPSEY NATASHA
22     INTERMEDIATE HEIFER, in milk, must have calved by three years of age, born on or after 1st February 2016 and on or before 31 July 2016
1st
Hannan, Mr Paul
LISNALTY MEGASIRE RITUEL
2nd

Foody, Mr Aidan
SPRUCEGROVE SEA L ILLINDA
4th

Cocoman, Mr Brochan
KILWARDEN SOLOMON BARBIE
Exhibitor Bred

Hannan, Mr Paul
LISNALTY MEGASIRE RITUEL
23     SENIOR HEIFER, in milk, must have calved by three years of age, born before 1 February 2016
1st

Hallow Holsteins
HALLOW ATWOOD CARMEN
2nd

Tubbertoby Holsteins
TUBBERTOBY ARMANI FLEUR
Exhibitor Bred

Hallow Holsteins
HALLOW ATWOOD CARMEN
24     COW, in milk, having had two calvings at date of Show
1st

Hallow Holsteins
HALLOW ATWOOD TWIZZLE 1181
Exhibitor Bred

Hallow Holsteins
HALLOW ATWOOD TWIZZLE 1181
Best Udder in Class
Hallow Holsteins
HALLOW ATWOOD TWIZZLE 1181
25     COW, in milk, having had two calvings at date of Show
1st

Dowling, Cyril
BALDONNEL FM SUNSHINE
2nd

Greenan, Padraic
GREENLEA MG RHAPSODY
Exhibitor Bred

Dowling, Cyril
BALDONNEL FM SUNSHINE
26     COW, in milk, having had three calvings at date of Show
1st

Boyd, Greenan, O'Neill, Timlin & Moore
DRUMLINA ATWOOD MEGAN EX92
2nd

Cocoman, Mr Brochan
KILWARDEN GOLD BONNIE
Exhibitor Bred

Cocoman, Mr Brochan
KILWARDEN GOLD BONNIE
Best Udder in Class
Boyd, Greenan, O'Neill, Timlin & Moore
DRUMLINA ATWOOD MEGAN EX92
27     COW, in milk, having had four or more calvings at date of Show
1st

Dowling, Cyril
CLONPADDIN SANCHEZ FAME
2nd

Colton, Mr Patrick
ARDNASALEM JENNY
3rd

Greenan, Padraic
GREENLEA LAUTHORITY PLEDGE
Exhibitor Bred

Dowling, Cyril
CLONPADDIN SANCHEZ FAME
Best Udder in Class
Dowling, Cyril
CLONPADDIN SANCHEZ FAME
28     COW, in milk or in calf, having produced a minimum of 50,000kgs in her lifetime
1st

Hallow Holsteins
BORDERMIST SANCHEZ FRAN
S16     Breed Championship
Champion

Dowling, Cyril
BALDONNEL FM SUNSHINE
Reserve Champion

Hallow Holsteins
HALLOW ATWOOD CARMEN
S17     Best Exhibitor Bred Holstein
Exhibitor Bred

Dowling, Cyril
BALDONNEL FM SUNSHINE
S18     Heifer Championship
Champion
Hallow Holsteins
HALLOW ATWOOD CARMEN
Reserve Champion
Tubbertoby Holsteins
TUBBERTOBY ARMANI FLEUR
S19     Junior Championship
Champion
Boyd, Mr David
LEAGH SOLOMON MAUI
Reserve Champion
Timlin, Rory
LYNBROOK ATWOOD ERIN ET
S21     Inter Breed Championship
Supreme Interbreed Champion

Dowling, Cyril
BALDONNEL FM SUNSHINE
Interbreed Champion Honourable Mention

Hallow Holsteins
HALLOW ATWOOD CARMEN
Interbreed Champion If Exhibitor Bred

Dowling, Cyril
BALDONNEL FM SUNSHINE
S22     Inter breed Heifer Championship
Champion
Hallow Holsteins
HALLOW ATWOOD CARMEN
Reserve Champion
Gaynor, Edwin
MULLAGHLANDS PRIDE STARLIGHT
3rd
Keenan, Christian
THREEMILE RUSTY BURDETTE
S23     Inter breed Junior Championship
Champion
Boyd, Mr David
LEAGH SOLOMON MAUI