44th IHFA Premier Bull Show & Sale
32 Bulls forward on the day with 56% clearance rate and average price of €3,173
A warm, sunny late-March day was the backdrop to the 44th Irish Holstein Friesian Association Premier Bull Show and Sale. 32 bulls of quality were forward on the day and the catalogue offered broad selection to suit diverse farming systems. Minimum qualifying criteria for entry was applied. All bulls were prior inspected, genotyped and sire verified (DNA) and 60-day TB tested.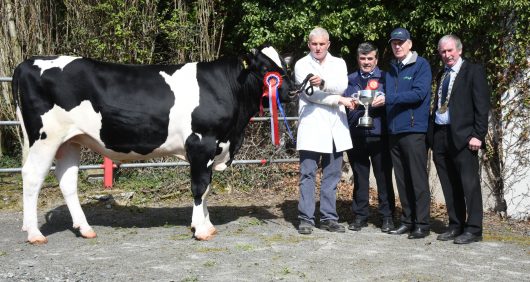 Champion Bull title went to Laurelelem Daffy 2 (Lot 8) for Rickey Barrett, Ballinhassig Co. Cork. He is bred from the Daffodil family and backed by five generations of EX dams. His dam, Laurelelm Gold Daffodil 3 EX91 3E, and Grand Dam, Laurelelm Mar Daffodil 2 EX91 4E, produced over 8,000kgs milk at 3.50% protein. The Daffodil family has won Best Cow Family in the Cork Club Herds Competition four times. He sold for €3,675.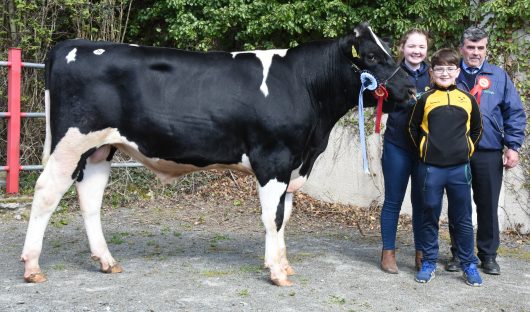 Lisnalty Harry (Lot 16) was Reserve Champion and was also first in his class for owner Paul Hannan. Sired by Stantons Applicable, this November-born bull is bred from the international Classic family, with his three nearest dams scored excellent. Harry has a milk solids PTA of + 32kgs milk solids and +0.04 protein%. He sold for €4,200.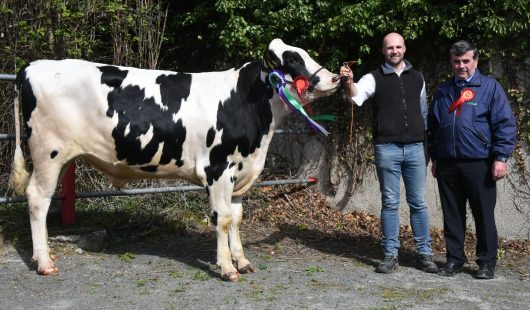 John O'Callaghan had Honourable Mention with Mountfarna Alexa (Lot 27). First in his class, Alexa is a January-born bull, sired by Cogent Peak Alex (FR2330) and bred from the Ruth family. His four nearest dams are scored to VG/EX on conformation, with his dam Mountfarna Eight Ruth EX90 having recorded 866kgs milk solids in her most recent lactation. Alexa went on to sell for €3,150.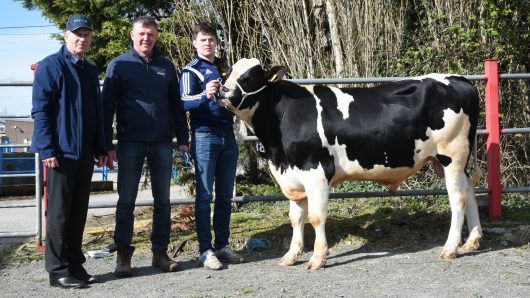 Quality breeding was to the fore. Radney Figo ET, owned by Henry O' Keeffe, commanded the top price selling for €4,600. Sired by Olcastletown Ronaldo (FR2298), his dam being the noted Radney QUR Odetta EX93 8E. His full brother, Radney Browne ET (Lot 25), sold for €3,990.
An overview of some other prices on the day;
Monamore Tremor (Lot 14) sold for €3,885. Bred from the noted Torch family, this bull is backed by eight generations of VG/EX dams including two dams scored EX94. His dam has averaged 8,400kgs milk, 3.68% protein in her first two lactations. Tremor has a PTA of + 2.50 for udders.
In a very successful day for Tom and James Kelly, the Monamore Herd twice achieved a sale price of €3,780 for bulls. Monamore Gandolf (Lot 1), bred from the Gay family with his four nearest Dams all scored EX. He was winner of highest EBI Award in his class. Monamore Franko (Lot 22) also sold for €3,780 is bred from the Fifi family and sired by Springhaven Otto (FR2351).
Mountfarna Alex (Lot 4), owned by John O' Callaghan, sold for €3,255. A September-born son of Cogent Peak Alex (FR2330) bred from the Wendy family. His nearest four dams are all scored EX on conformation. He has a PTA of + 2.00 for conformation and is + 0.05 protein %.
Hallow Sol Twizzle ET owned by Philip & Linda Jones (Lot 21), sold for €3,150. Bred from the very successful Twizzle family, his dam is Hallow Advent Twizzle 3 ET EX96 4E who won Supreme Champion Emerald Expo, Baileys Champion Cow and Reserve Champion RUAS Winter Fair 2016. She is a noted brood cow with many of her daughters having also been very successful. Sol Twizzle has a PTA of + 3.40 for Conformation.
Ryefarm Splendiferous (Lot 31), owned by Eddie O' Flynn, sold for €2,310. Sired by Doorman, he is bred from four generations of VG/EX dams. His grand dam Ryefarm Principal Gaerochop EX94 6E is an IHFA Diamond Award cow for achieving 3,000kgs protein production. She is milking in her 10th lactation and is still going strong. Splendiferous has a PTA of + 3.00 for conformation and is +0.03 protein%.
Mountfarna Armour (Lot 33) owned by John O' Callaghan sold for €2,625. Sired by Boldi V Armour (S3196) his dam Mountfarna Dame Neva EX92 2E produced over 10,000kgs milk at 3.58% protein with his grand dam Mountfarna Telemark Neva EX91 2E also yielding over 10,000kgs milk at 3.82% protein.
Radney Nut (Lot 30) owned by Henry O'Keeffe sold for €2,415. Bred from the Odetta family, he is sired by Radney Steve (FR4098). His dam and grand dam have consistantly recorded lactations over 4.00% protein. Both dams are scored VG on conformation. This January born bull has a PTA of + 0.16 protein%.
Mylawn Black Lester (Lot 7) owned by Michael Healy sold for €2,100. Backed by four generations VG/EX dams he has a PTA of + 2.00 for feet & legs and is +0.05 protein%.
Lisduff Nero (Lot 9) owned by James O' Connor sold for €2,100. He is bred from the Neottie family at Lisduff with his nearest three dams all classified to VG/EX on conformation and having over 3.50% protein.
Judge on the day was Tom Murphy, Swiftsheath Herd. The sale was held at Nenagh Livestock Mart. John Kirby was steward. All prices quoted include auctioneers fees.