34th RUAS Winter Fair Report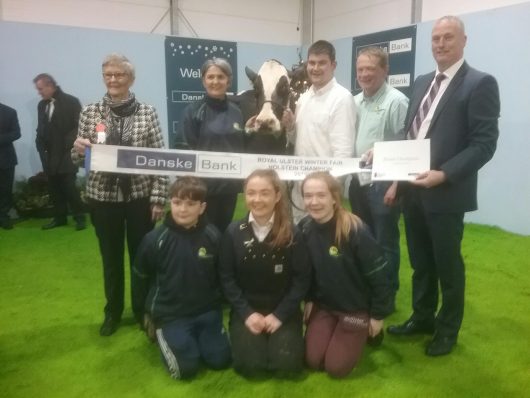 "Youthful" selection of Southern Cows takes Winter Fair Championship
Southern cows feature prominently once again at the Royal Ulster Agricultural Society (RUAS) Winter Fair 2019.
Breeders from across Ireland made the journey to the Eikon Exhibition Centre at Balmoral Park, Lisburn, for the unique and festive atmosphere of the Winter Fair. Lisnalty Megasire Rituel won Holstein Champion, Exhibitor Bred Champion and she went on to be crowned Supreme Interbreed Champion for Paul Hannan.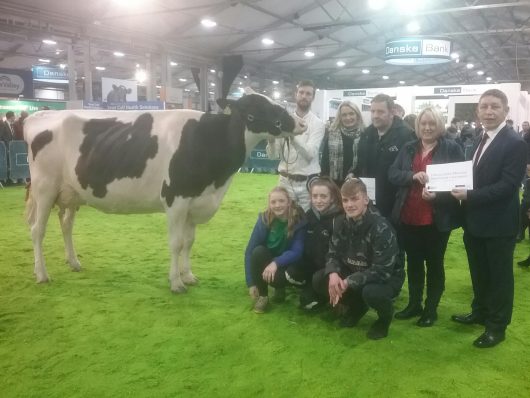 Tubbertoby Armani Fleur won Reserve Holstein Champion and also Interbreed Honourable Mention for exhibitors Tubbertoby Holsteins. It was a Championship brimming with quality and style.
Breeders from the south featured very strongly throughout the day and the large support helped boost overall numbers in what was described by organisers as "probably the largest Winter Fair in terms of total numbers of cattle and quality in quite a while".
Lisnalty Megasire Rituel concludes the year as Supreme Champion of both the National Dairy Show and the RUAS Winter Fair, a notable achievement. Exhibited by Paul Hannan with his wife Eileen and children Jane, Clare and Bill who were all very involved on the day. In his comments the Judge stated "I love her quality. I really admire her overall cleanness, her bloom of udder and definition of ligament". She was 1st Junior cow in milk and also awarded best udder. It was a most successful return to the Winter Fair for this 2nd calver having won 1st Intermediate Heifer in milk last year. She scored VG88 as a heifer on IHFA conformation.
Calved with her 2nd since mid-October, Tubbertoby Armani Fleur in winning Reserve Champion, was one of the freshest cows at the Winter Fair. For Paul and Marguerite Flanagan & children Matthew, Thea, Ella it was a memorable day for all the family to enjoy as Fleur took the penultimate honours. She was 1st Senior cow in milk and was also awarded best udder. The Judge commented "I love her beautiful frame and overall length of body. Her chiselled body and snugness of fore udder gives her the advantage as my class winner." As a heifer Tubbertoby Armani Fleur recorded 8,273 kgs milk, 607 kgs milk solids, 4.00 % Fat, 3.34 % Protein (305 d). She scored VG87-2-Year Old on IHFA Conformation.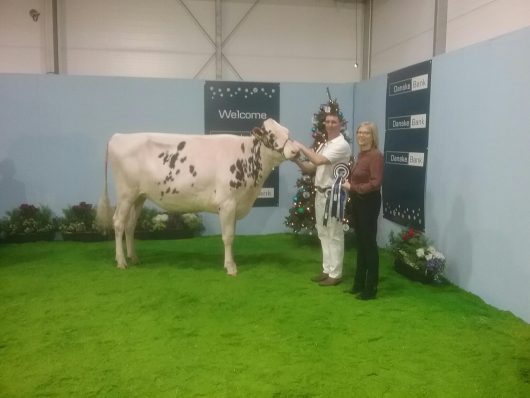 Other success for Southern Breeders included;
• Greenlea MG Rhapsody, exhibited by Padraic Greenan, 1st 3rd calver. Hallow Attic Christina exhibited by Hallow Holsteins claimed 2nd place.
• Glaslough Doorsopen Pebbles exhibited by David Boyd & Trevor Keith, 1st Junior Heifer in milk. Lynbrook Atwood Erin exhibited by Timlin & O'Neill claimed 2nd place.
• Clonpaddin CWG Jill 14 exhibited by Garry Hurley was 2nd to the Supreme Champion in the Junior cow in milk class.
• Hallow Solomon Twizzle exhibited by Hallow Holsteins was Reserve Junior Champion.
• Lumville M Danoise exhibited by Annaghmore Holsteins (N.I.) bred by Richard Whelan, Clonard, was 1st Intermediate Heifer.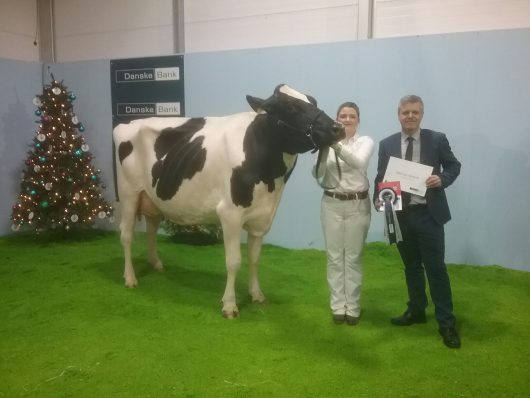 YMA members were to the fore in the Showmanship classes. Hannah Greenan, Crosshugh, Monaghan was 1st Junior Showmanship. Sarah Williamson, Drumshanny, Monaghan was 1st Intermediate Showmanship. Both are active members of their local Breffni Oriel club.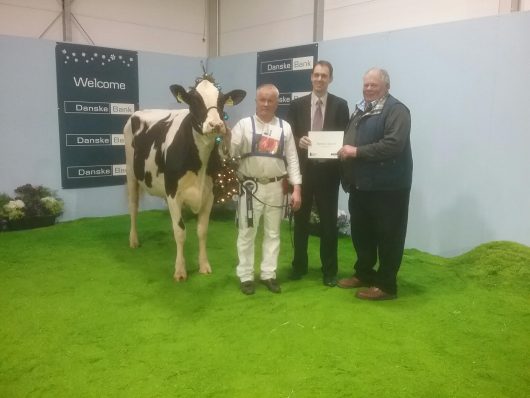 Judge of the 34th RUAS Winter Fair was Australian Robert Anderson. He is a seasoned judge with over 25 years' experience. He is a member of the Jersey and Holstein Australia Judges panels. In 2016 he became the very first Australian to officiate the National Jersey show at the International Dairy Week which is Australia's premier livestock show.
Adding to the spectacle of the Winter Fair was the trade stand display of over 200 companies. This togetherness of the industry, social aspect and festive backdrop sets the Winter Fair apart as a premier dairy event.
Thanks to Chairman, Mark Logan and the organising committee members for facilitating the participation of Breeders from the South.